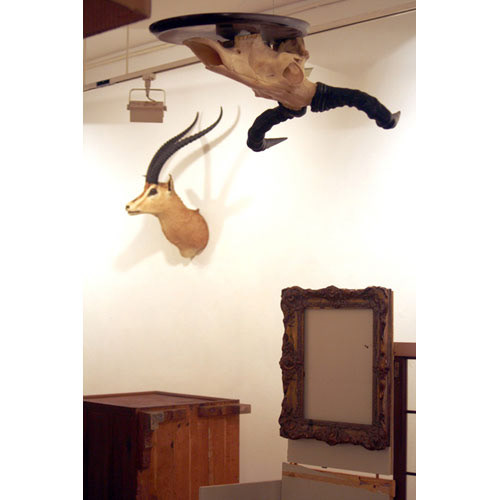 PRESS RELEASE

PS3*
Effect, Affect. 
Interventión Installatión

O+O Gallery, Valencia
September 21 through, October 13, 2012
Opening Reception, Friday, September 21, 2012, from 20:00 pm.

The Gallery O+O, (Orient+ Occident) Valencia, Spain, begins the 2012 season program with the individual exhibition of PS3* aka (Pedro Sanchez III). multidisciplinary artist Madrid born and settled in New York for many years, he lived also a few years in Japan, and exhibited in cities like Tokyo, New York, Madrid, Valencia (Spain) and London.

Aesthetic of Negativity, the reversal of the utopia, where the performance naked of its own attributes, to a certain extent, the impossibility to be representational in the commercial value and at the same time, searching a space not to be contained in the margins of a cultural condition, where ideologies and strategies have merged a cultural conformism of liberal opposition more likely surrendered to the cultural economic productivity which creates a marginal space for idiosyncrasies out of sink". 

Disobeying the norms that for very obvious reasons reflect the conservative logic of its underlying economic (economical) values. He is a committed artist and an artist who integrates his creations with the times in which we live. An artist who makes us reflect, think, something fundamental between other things that presents the art, and the power of transformation to challenge things. 
'This multidisciplinary project is a complex body of work with a new experience that had never been consolidated as presentation of the work of PS3 * before, which mutates and evolves in response to its own evolution," says the artist.
Who's work moves along a wide range of media, from rather huge installations of ephemeral construction to oil paintings on canvas, through photography and moving image movies created on digital format, video. A reflective and plastic experimentation where the articulation of space becomes a volatile game. Installations created with recycled materials, including photographs, video screening projections and painting of abstract language that plays with balance and a grayish color gamut creating disturbing tension, are a good example of the richness of this new project that mixes essays, research and previous work with new proposals.

Different geometric shapes, materials, textures, brackets... open to all kinds of reflections on poverty, habitability, society, economy, environment, political... A courageous Artist in its alternatives forms challenging the artistic model representation.
Galería O+O (Oriente + Occidente)  西班牙"O+O 画廊"("东西方画廊")
[SPANISH]
PS3*
Efecto, Afecto. 
Intervención Instalación
Galeria O+O, Valencia
Del 21 de Septiembre al 13 de Octubre de 2012
Inauguración viernes 21 de Septiembre a las 20:00 horas
La Galería O+O de Valencia comienza la temporada con la exposición individual de PS3* Alias Pedro SanchezIII. Artista multidisciplinar nacido en Madrid y afincado en Nueva York, desde hace muchos años, vivió también unos años en Japón, y  que ha expuesto su obra en ciudades como Tokio, Nueva York, Madrid, Valencia y Londres.

Estética de la negatividad, espacios excluidos, el reverso de la utopía, donde su función representativa está desnuda de su propios "atributos", en cierta medida, ante la imposibilidad de representación como valor comercial y, al mismo tiempo, buscando un espacio, una experiencia donde no quedar contenido en los márgenes de una condición cultural, donde las ideologías y las estrategias se han fusionado en un conformismo cultural de oposición liberal. Más probablemente entregada a la productividad económica cultural, que crea un espacio marginal para idiosincrasias que se sitúan fuera de la lógica del control del poder. Desobedeciendo las normas que por razones muy obvias reflejan la lógica conservadora de sus valores económicos subyacentes. Es un artista comprometido y un artista que integra sus creaciones con los tiempos que nos toca vivir.Un artista que nos hace reflexionar, pensar ,algo fundamental entre otras cosas que presenta el arte , el poder de transformación de cambiar las cosas.
Efecto, Afecto es una experiencia que va más de una exposición usual. Se trata de una intervención-instalación que además de ocupar la galería sale de puertas hacia fuera. El barrio de Benimaclet, con sus huertos urbanos, calles y plaza, será intervenido por el artista formando parte de esta muestra. De este modo, el espacio circundante a la galería y sus vecinos se unen en esta expansión artística e interventiva, forman de forma ineludible parte de ella.
"Este Proyecto multidisciplinar es un complejo cuerpo de trabajo con una nueva experiencia que nunca había sido consolidada como presentación del trabajo de PS3* antes, que muta y transforma en respuesta a su propia evolución" afirma el artista.

Las obras que componen Efecto, Afecto. Intervención Instalación presentan multitud de posibilidades, contrastes, opuestos y reflexiones. Desde instalaciones de construcción efímera a óleos sobre lienzo, pasando por fotografía y vídeo. Una experimentación plástica y reflexiva donde la articulación del espacio se convierte en un juego inestable. Las instalaciones creadas con materiales reutilizados, donde se insertan fotografía y vídeo; o la pintura de lenguaje abstracto que juega con el equilibrio y una gama cromática grisácea creando una tensión inquietante, son una buena muestra de la riqueza de este nuevo proyecto que mezcla ensayos, investigaciones y trabajos anteriores con nuevas propuestas.
Diferentes figuras geométricas, materiales, texturas, soportes… abiertos a todo tipo de reflexiones sobre la pobreza, habitabilidad, sociedad, economía, medio ambiente, política… Un artista valiente en sus formas de alternativas en el arte y en la representación artística . 
Galería O+O (Oriente + Occidente)  西班牙"O+O 画廊"("东西方画廊")